Ross and Jake Way Help Manage AMC's Growing List of Commercial Properties
Since 1990, AMC has provided full-service property management to Wichita area property owners, tenants, and developers. We have worked to not only grow our reputation, but also our city's economy by building, leasing, and maintaining premier commercial properties so our tenants can focus on their business without the added stress of maintaining it.
We have also grown internally, including father and son on our team to keep AMC thriving! Our Property and Leasing Manager, Ross Way, is passing along his knowledge to his son, Jake Way, at AMC. We asked them a few questions about working as a father and son team at AMC.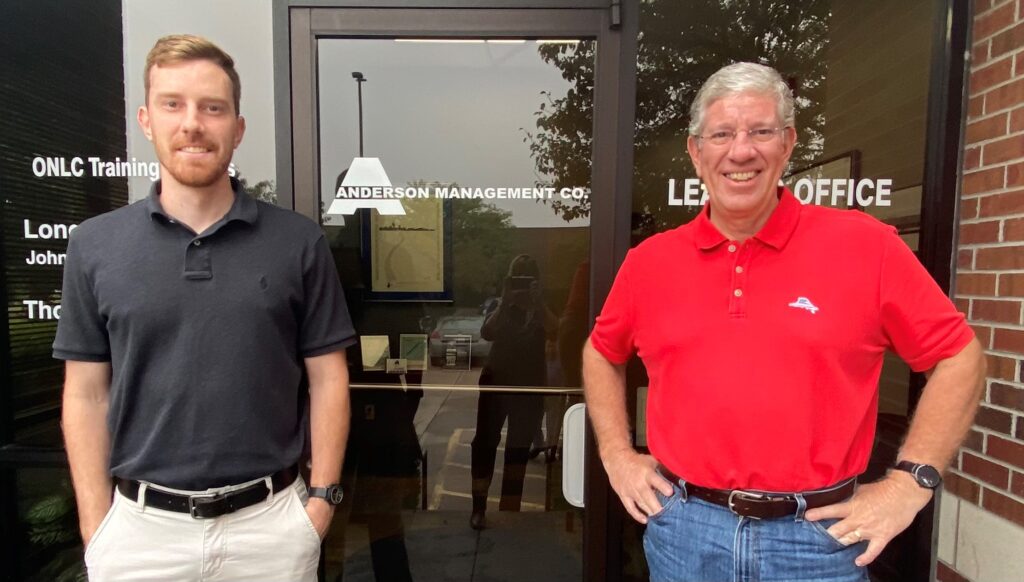 1. How long have you been with AMC?
Ross: I joined Anderson Investment Co. in February of 1983. On January 1, 1990, Keith Anderson Sr., Norman Foster, and myself formed Anderson Management Co., Inc. (AMC).
Jake: I first started at AMC in January of 2005 when I could first start driving.
2. How have you seen AMC grow over your time here and how have you grown within the company?
Ross: When we formed Anderson Management Co., Inc. we managed about 10 buildings (200,000 sq. ft.), 5 mini storage facilities, and 1 apartment complex. We now manage 42 buildings (1,100,000 sq. ft.), 7 mini storage locations, and 1 apartment complex.
Jake: I have seen the portfolio of AMC grow over the past 15 years all across Wichita. From nationwide tenants that return to us, to local business owners that have been with us my entire career. I have grown within this company by starting out picking up trash on all of the properties to now providing management to the tenants on the same properties.
3. What is your favorite aspect of working with your son/father?
Ross: What I enjoy most about having my son Jake work for us is that I can pass along my knowledge and experiences to make him a better Property Manager, plus I get to see him every day! He now has his own properties to manage that he is responsible for.
Jake: My favorite part of working with my father is the knowledge and understanding of the business that he is passing on to me that can't be found in a video or a textbook. It's really the intangibles that I will be able to carry with me for the rest of my life.
4. What are your short-term/long-term goals as a family-oriented team at AMC?
Ross: My short-term goal is to get Jake in a position where both he and I are comfortable with him handling all of the property management responsibilities and I can just concentrate on the leasing and sales. Long term goal would be for Jake to take over the day-to-day commercial property management operations of Anderson Management Co. so I can retire!
Jake: My short-term goals at the company are to continue to obtain the right skills to be able to keep AMC going in a positive direction within our day to day management. A long-term goal of mine is to maintain the AMC portfolio with top-notch properties that reflect our management services.
Check out the rest of our awesome staff who completes the rest of our AMC work family and makes our company great!