AMC: 30+ Years of Trusted Wichita Commercial Property Management
Since 1990, Anderson Management Company (AMC) has served as a full-service commercial property management company in Wichita, KS. As property managers, we take the stress out of maintaining office and warehouse space for property owners, tenants, and developers in the Wichita area.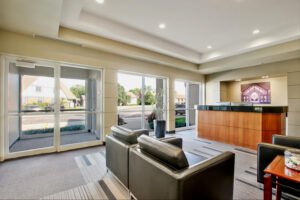 Over the course of three decades, AMC has been growing our reputation – as well as the local economy – by building, leasing, and maintaining premier commercial properties in Wichita including Northrock Business Park, Cherry Creek Business Park, and K42 & West Street Business Park.
AMC has an impressive portfolio of well-maintained commercial properties in Wichita, KS to accommodate a variety of business needs. All of our properties are finish-to-suit to plan your office exactly how you want it. See all of our available properties!
Class A office buildings with door-front parking
A high-tech testing facility
Office space/service facility with rear-door delivery access
Office/warehouses with dock-high doors
Tenants
Anderson Management strives to maintain our Wichita office space and warehouses in optimal condition for our tenants. We take pride in sustaining our properties' clean and professional appearance, allowing AMC tenants to focus on their business without the added stress of maintaining a property. Keeping our own staff of maintenance personnel assures property concerns will be addressed quickly and efficiently.
Tenant Space Planning/Turnkey Service
Anderson Management provides a free turnkey service for our new office space tenants. We prepare the office exactly how they want it, and tenants simply turn a key to begin growing their business with us!
Turnkey space planning offers incoming tenants both rent and space consistent with their needs when it comes to office design. We walk through a process to ensure everything is perfect for our new tenants. AMC is proud to provide this "build-to-suit" feature at all of our locations. Here's how it works!
Development
First, we'll sit down with the new tenant to develop a space plan and finish schedule.
Budget
Based on these goals, Anderson Management will develop a budget for construction.
Rate
From this budget, the rental rate is derived to reflect the scope of work.
Drawings
Once the space plan, schedule, and rates are agreed upon – they are turned over to the architect to complete the working drawings.
Signing
After the architect completes the working drawings, the tenant and landlord will review and sign off on the drawings.
Building
Construction on your new suite can now begin!
We Offer Property Owners Management Services Including:
Real Estate Property Management – Leasing, tenant relations, maintenance, remodeling, and construction management (note: we do not provide apartment management services)
Business Management – Supervision of on-site personnel, compliance with internal systems, control of expenditures, and enhancement of sales
Consultation – Budgeting, leases and sales, business plan establishment, and real estate purchase analysis
Accounting – Processing monthly, quarterly, or annual financial statements, payroll processing, and preparation of payroll tax reports
Awards
Anderson Management Company has grown to now manage retail, office, warehouse, flex space, industrial space, apartments, and self-storage properties throughout the Wichita, Kansas area.
In 2019, 2021 & 2022, we received the CoStar Power Broker Award, which honors the best in commercial real estate quarterly. AMC proudly continues to grow in commercial property management – 30 years and counting!