Anderson Management Company is Proud to Announce Northrock Business Park in East Wichita Celebrates Full Occupancy!
Anderson Management Company opened Northrock Business Park at the busy intersection of K-96 and Rock Road in 1990. Over the years, the office park has grown to offer nearly 300,000 square feet across 18 buildings. AMC is thrilled to announce Northrock Business Park is 100% occupied for the first time since opening!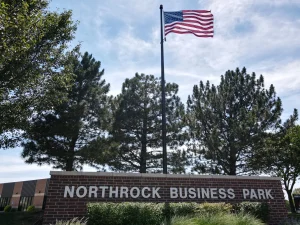 Northrock Business Park is now home to a record number of 63 tenants utilizing our professionally managed office space, warehouse space, or service space in east Wichita.
The Wichita Business Journal interviewed AMC's Property & Leasing Manager, Ross Way about Northrock Business Park's success. "It totally surprises me," Way said of how occupancy has played out compared to what he thought early in the pandemic. The article also notes Ross adding, "Taking care of tenants is a priority."
We're very thankful to all of our tenants and look forward to AMC's continued growth as a leading commercial property management company in Wichita. Read the Wichita Business Journal article here!