Buchanan Technologies, an International IT Services Company, Has Partnered & Grown with AMC Wichita Since 2014
AMC takes immense pride in tenant relationships and watching each company grow in our Wichita office suites and warehouses. While we have come to know Buchanan Technologies well, we want our readers to get to know their business, too!
We sat down to ask Thomas Nieuwhof, Director of Operations of Support Center Services for Buchanan Technologies, a few questions for this month's tenant spotlight.
Buchanan Technologies has locations in Texas, North Carolina, Canada, and Bulgaria. How long have you had a location in Wichita, KS?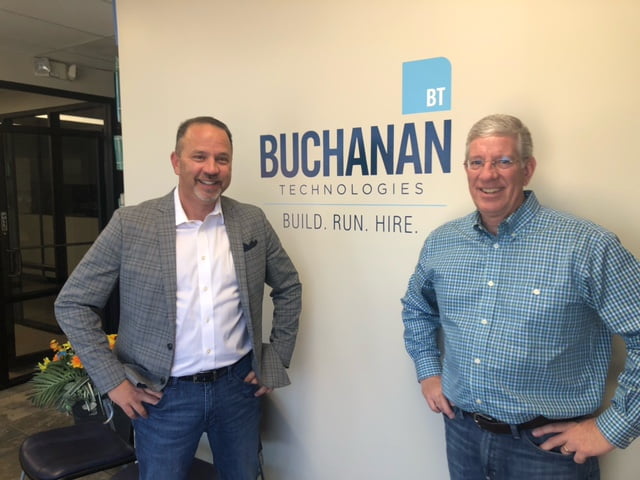 Buchanan Technologies has been in Wichita for almost 18 years, starting with a hardware distribution depot. In 2010, Buchanan Technologies made the decision to expand our presence in Wichita to include our Support Center Services. In 2013, growth exceeded our present office space and the search for a new office began. For just over a year, we looked at purchasing & leasing space all over Wichita…then we found the AMC group at the Northrock Business Park.
What factors made the decision to choose AMC?
Choosing AMC & the Northrock Business Park was a decision that we were able to make very quickly and in 2014, it became our new Wichita home. The AMC team was very eager to work with us. They were very supportive and interested in earning our business.
The location itself was ideal because of its access to K-96, Rock Road, and all of the amenities the area would provide our employees (restaurants, retail & apartments). Additionally, the parking & infrastructure of the Northrock Business Park was a crucial match to the needs of our technology business. Combine that with the fantastic team of people at AMC, and it really was a perfect match.
AMC was very flexible in remodeling the space to fit our specific needs. They also were the only property management company that wanted to be a partner in our future growth. The AMC team constantly considered our growth needs, always giving us the flexibility to expand & grow without limitation or hesitation, which made partnering with them very easy.
In the 6 years we have been with the AMC team, our business & footprint has tripled. Each step of the way, AMC was there to make it as simple & as cost-effective as possible. We have continued our growth every year & we know AMC will be right there to help us with space & facilities each step of the way through 2021 and 2022!
Can you tell us in a few sentences about the services Buchanan Technologies offers?
Founded in 1988, Buchanan Technologies is a privately-held technology services corporation that has been helping its clients successfully navigate the tremendous shifts in enterprise technology for more than three decades. Buchanan Technologies offers Fully Managed IT Services, Cloud Services, IT Service Desk, IT Staffing Field Services & IT Project Services/Management.
What sets the Buchanan brand apart in the IT services industry?
At the heart of our success is a dedication to working closely with our clients, delivering strategic IT services that assist their business objectives and transform their organizations. We believe in putting people first — and technology second. So while software and hardware technology continues to change, our customer-centric approach to IT never will. Our Core Values are Our "Employees Matter,  Customers Matter, Communities Matter & Principles Matter." This drives everything we do, the services we provide, and the outcomes we achieve for our customers!
Thank you to Buchanan Technologies for partnering with AMC for past, present, and future growth in our Wichita office suites. We look forward to our continued partnership for years to come!